The head of the Senate Commerce Committee is calling for a federal investigation into whether Facebook has misled businesses in its handling
of their data. The news comes after revelations from Cambridge Analytica's misuse of personal information on 50 million users, which ignited calls to review the way governments handle private data and how social media platforms are regulated.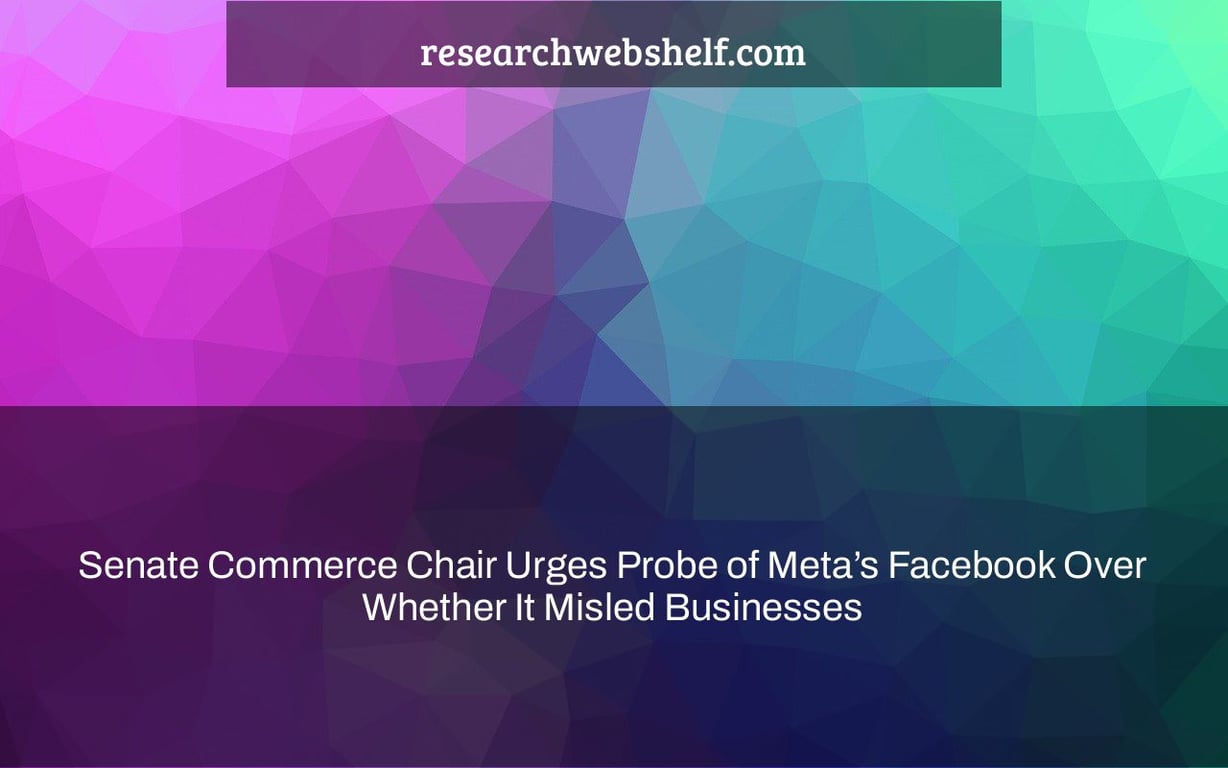 WASHINGTON— The chairman of the Senate Commerce Committee has asked the Federal Trade Commission to look into claims that Facebook parent Meta Platforms Inc. FB -0.22 percent misled companies about its efforts to safeguard their brands from hate speech and misrepresented the reach of advertising on its platforms.
Sen. Maria Cantwell (D., Wash.), who leads the Commerce Committee, wrote to FTC Chairwoman Lina Khan, saying the agency should look into how the company's activities may have harmed advertisers and the general public.
"Members of the public and companies have a right to know the truth about Facebook's behavior before making judgments about whether or not to use the platform," Ms. Cantwell wrote.
---
Subscribe to our newsletter
Technology
A weekly roundup of tech reviews, stories, editorials, and answers to your questions from the Wall Street Journal's Personal Tech experts.
---
Senator Elizabeth Warren (D-Massachusetts) repeated Ms. Cantwell's appeal later on Thursday. Ms. Warren also encouraged the Justice Department and the Securities and Exchange Commission to initiate criminal and civil investigations into the reach of Facebook's advertising in a separate letter.
The Department of Justice and Facebook have both refused to comment on Ms. Warren's letter.
The letters are yet another potentially concerning development for Facebook, which has been subjected to a slew of hearings and inquiries over accusations of damage caused by its services, and might serve as a focal point for more investigations.
Ms. Cantwell's letter was received by the FTC, but the agency refused to respond. Facebook has disputed that it deceived companies and marketers on purpose.
The charges, according to Ms. Cantwell, are particularly more serious given Facebook's substantial portion of the digital advertising market. According to her, the corporation purportedly commanded 74% of the social-media market in July 2020 and currently controls 24% of all digital-advertising expenditure in the United States.
"Advertisers and publishers, including struggling local news outlets throughout the nation, may have been subjected to unfair competition by Facebook, thereby harming their earnings and capacity to compete online," she wrote.
Ms. Cantwell's letter brings up two points. One is how Meta, previously Facebook Inc., has portrayed its achievements in removing hate speech that might jeopardize sponsors' brand protection.
One of Facebook's major indicators, according to the senator, "may greatly distort the success of Facebook's algorithms" in removing hate speech. Despite Facebook's boasts regarding the efficacy of its algorithms, her letter cites whistleblower materials revealing that the company's algorithms "ignore more than 90% of hate speech content."
Meta CEO Mark Zuckerberg previously stated that by the end of 2019, the company expects to use artificial intelligence to detect "the vast majority of problematic content," and the company has stated that nearly 98 percent of the hate speech it removes is discovered by AI before it is reported by users.
Another set of difficulties involves reported faults with Facebook's potential reach measure, which is used to estimate how many people could view an ad. Ms. Cantwell's letter reaffirms long-held fears that Facebook's potential reach has been exaggerated.
During a Senate Commerce subcommittee hearing on Wednesday, Instagram CEO Adam Mosseri fought back against claims by certain politicians that social media tools are meant to be addictive. courtesy of Getty Images/Drew Angerer
At a Senate hearing on Wednesday, Ms. Cantwell questioned Adam Mosseri, the CEO of Meta unit Instagram, about these issues.
"I'm not aware of any particular mistakes," Mr. Mosseri said, adding that the business makes every effort to ensure that advertisers understand what its advertising data mean. In his 13 years with the organization, he claimed the charges "absolutely not fit up with any of my experience." Intentionally deceiving advertisers "would be a major breach of trust," he added, adding that it "would certainly come out and erode our reputation."
Whistleblower Frances Haugen claimed that the corporation overlooked or understated the damage caused by its services, prompting the government investigation. Internal papers she gave were used to create The Wall Street Journal's Facebook Files story earlier this year.
The Federal Trade Commission has launched its own probe into the allegations, and state attorneys general have announced their own investigations into the corporation, including its Instagram division. The discoveries have also sparked congressional discussion on a number of new legislation initiatives, including those related to children's privacy, accountability, openness, and antitrust.
Sen. Cantwell's letter seems to be based entirely on papers supplied to the SEC by Ms. Haugen earlier this year.
John D. McKinnon can be reached at [email protected]
Dow Jones & Company, Inc. All Rights Reserved. Copyright 2021 Dow Jones & Company, Inc. 87990cbe856818d5eddac44c7b1cdeb8
Watch This Video-