Here are the top ten IOS 15 Update Issues and their fixes.
The "ios 15.1 update issues" is a problem that has been present for a while. Apple released fixes to fix the issue, but not all users have taken the time to download and install them.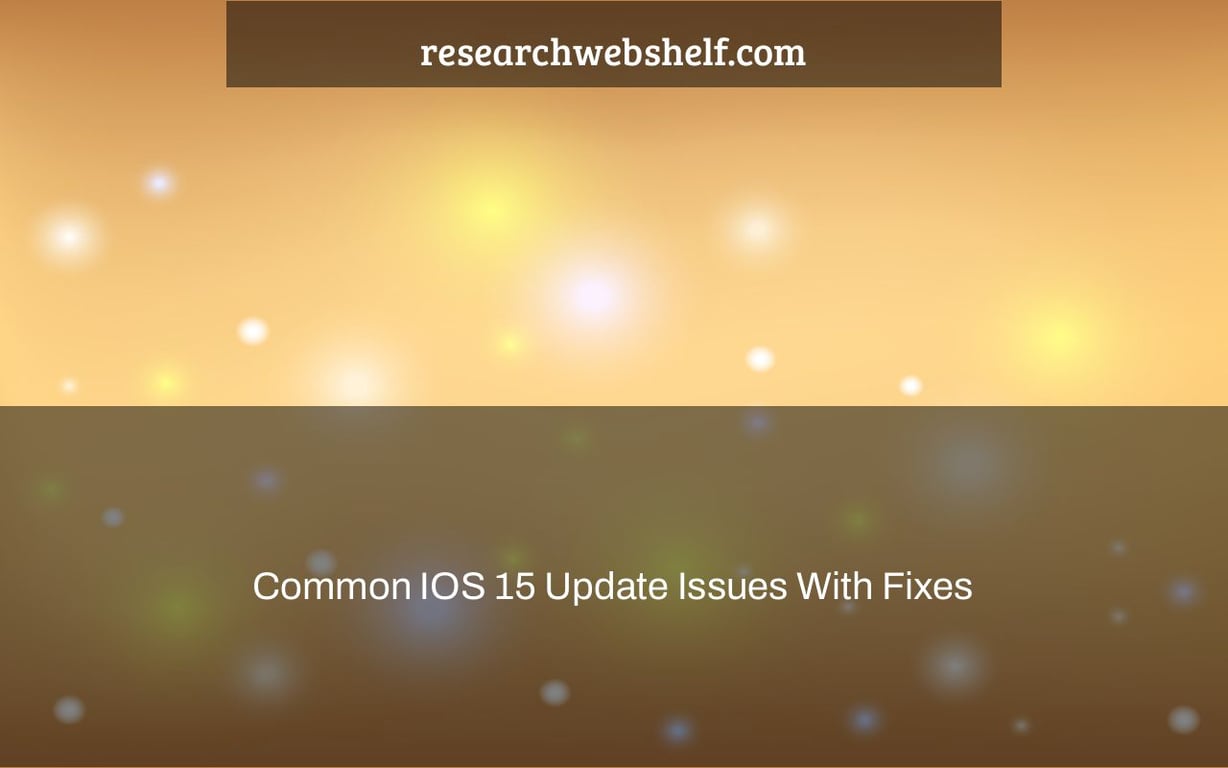 The most recent iOS version is now available. It confirms all reports and speculation about how it will appear, allowing us to view all of the amazing things Apple has to offer with iOS 15. Surprisingly, the iPhone 6s and iPhone SE 1st generation are also compatible with the update. It is not difficult to upgrade iOS, however problems might arise both during and after the procedure. For example, the update might fail, or the iPhone could get stuck on the Apple logo. That is why we have come. To talk about the most prevalent difficulties with the iOS 15 upgrade and how to address them. Continue reading if you're having trouble with an iOS update right now.
Fixes for Common iOS 15 Update Issues
The software update for iOS 15 was unsuccessful.
Before upgrading your iPhone to iOS 15, there are three things you should keep in mind. The battery, Internet connectivity, and storage are all important factors.
1st option
It would be fantastic if you can fully charge your iPhone. If the battery is less than 50% charged, don't start the operation.
2nd Option
Make room on your iPhone's storage. Your images and videos may be transferred to a computer and then deleted. Alternatively, uninstall the programs you don't need.
Solution number three
It's most likely tied to an Internet connection if you receive a popup warning claiming you can't check for updates or install them. Try changing to a different network or using mobile data to test your WiFi network.
4th solution
Using iTunes, update iOS 15 to the latest version. To use this approach, you'll need a computer with the most recent version of iTunes installed. Connect your iPhone to your computer via a USB cord and launch iTunes. In the iTunes interface, choose your iPhone. Click Download and Update after finding the Check for Update option.
Verifying/Unable to Verify in iOS 15 Update
You may not have any problems downloading iOS 15, but you may get stuck or unable to validate the upgrade.
1st option
Press the lock button, then press it again to wake it up. Repeat this procedure a few times.
2nd Option
Force the iPhone to restart.
For iPhone 8, SE (2nd gen), X, Xs, Xr, 11, 12, 13, press and release the Volume Up button once. Toggle the Volume down button in the same way. After that, press and hold the side button until the Apple logo appears.
For the iPhone 7 series, simultaneously press and hold the Volume Down and Sleep/Wake keys until the Apple logo appears on the screen. Then let them go.
For iPhone 6s and SE (1st generation), press and hold the Home and Sleep/wake buttons simultaneously for a few seconds. Once the Apple logo displays, release both presses.
Solution number three
Use Tenorshare ReiBoot if you want to avoid a bunch of the troubleshooting steps. It's a third-party program that fixes all iOS issues. All frequent iOS 15 upgrade troubles may be resolved in just a few minutes with a few simple and straightforward procedures.
ReiBoot may be downloaded and installed on your PC. Then go ahead and launch it.
Using a USB cord, connect your iOS device to a computer.
Click Start after the app has detected your device.
Select Standard Repair and press the Start Repair button.
To get the Firmware package, go to the next window and click the Download button.
Click Start Standard Repair when the Firmware has been successfully downloaded.
To finish, click Done. You should be able to use your iPhone normally again.
The iOS 15 Update Isn't Appearing
If you're an Apple user, you're probably looking forward to getting the iOS 15 update on your iPhone. But what if you don't see the iOS 15 update on your device?
1st option
Check to see whether your smartphone can run iOS 15. The newest iOS version is compatible with iPhone 6s and later, iPhone SE (1st and 2nd generation), and iPod Touch 7th generation, according to Apple's official website. The whole list may be seen below.
2nd Option
On Apple's official website, you may check the status of your machine. If the update server status is down, this might be the reason why the iOS 15 update isn't showing up on your iPhone. Return after a few hours to see if anything has changed.
Solution number three
Start with the basics, such as rebooting your phone and checking your Internet connection.
4th solution
Attempt to install iOS 15 on a PC. Make sure you have the most recent version of iTunes installed. Connect your iPhone or iPad to your computer first. On your PC, right-click your device's name and choose Check for Update. Click Download and Update for the last one.
iOS 15 Update is stuck on "Estimating Time Remaining/Requested Update"
The most prevalent iOS 15 upgrade difficulties emerge as a result of customers failing to properly prepare for the update. Users often skip this stage and go straight to the update procedures, overlooking important details like as data backup, Internet network testing, battery testing, and so on.
Here are some things you can do if you're having issues with an iOS 15 upgrade stuck on estimated time remaining/update requested.
1st option
If you hard reset your iPhone, it will be refreshed and all active applications and systems will be stopped.
2nd Option
Remove the update and reinstall it. Go to Settings > General > iPhone Storage to find out how to free up some space on your iPhone. Look for the iOS 15 software and choose the Delete update option. Restart your iPhone after that. After that, you can either restart the upgrading process or use iTunes to upgrade iOS 15. This time, though, be sure to go through the preparatory stages thoroughly before beginning the process.
Solution number three
To save time, skip this approach and go straight to Tenorshare ReiBoot. If you don't want to utilize ReiBoot right now to address iOS 15 upgrade problems, try placing your iPhone into Recovery mode.
1. Obtain a Mac or PC with the most recent version of iTunes installed.
2. If iTunes is open, close it before connecting the iPhone to your computer.
3. Go to your computer and open iTunes.
4. a. For iPhone 8 and later, press and immediately release the Volume Up button. Remove the volume down button as soon as possible. Then, until the recovery mode screen appears, press and hold the side button.
4. b. For iPhone 7 series and iPod Touch (7th gen): Press and hold the Power and Volume down buttons simultaneously until your iPhone displays a recovery mode screen.
4. c. Press and hold the Power and Home buttons at the same time on the iPhone 6s and iPhone SE (1st gen). Release them once you see the recovery mode screen.
5. Choose between Restore and Update. If you choose Restore, your iPhone's settings and contents will be erased.
Because your iPhone is trapped in recovery mode, this procedure may cure iOS 15 upgrade difficulties or cause a new problem. If this occurs to you, Tenorshare ReiBoot can help you fix the problem.
Apple Logo/Boot Loop Stuck in iOS 15 Update
The iOS 15 typically takes roughly 15 minutes to complete. Depending on your Internet speed, it may also be quicker or slower. However, if the loading bar and Apple logo do not display any progress after an hour, there is an issue. Here are some options for you to consider.
1st option
The iPhone must be charged. This easy approach could be able to help you get rid of the iOS 14 update's Apple Logo/boot loop. First and foremost, if the battery life is less than 50%.
2nd Option
Another simple option to resolve frequent iOS 15 upgrade difficulties is to force your iPhone to reboot. You can't restart the gadget normally since it's stuck in the Apple logo/boot loop.
4th solution
You may attempt a variety of troubleshooting approaches to resolve iOS 15 upgrade difficulties. You have no idea which one is best for you. Some problems may be remedied using simple procedures, while others can be handled by resetting the device to factory defaults.
A solution, on the other hand, may resolve all of the most prevalent iOS 15 upgrade concerns without causing data loss. You may save time by skipping all troubleshooting procedures. Here's how to put it to good use.
You must to download and install Tenorshare ReiBoot on your PC.
Connect your iPhone to your PC using the program.
Your device will be detected by the program and shown on the ReiBoot interface. To begin, press the Start button.
To resolve common iOS 15 bugs without losing data, choose Standard Repair.
Start the repair process by clicking Start Repair.
On your computer, you must download the firmware package. Wait until the downloading procedure is complete before clicking Download.
Click Start Standard Repair and then Done after the procedure is finished.
Watch This Video-
The "ios 15 issues reddit" is a website that has been used to discuss the various problems that have been present with iOS 15. The site has also been used to provide solutions for some of these problems.
Frequently Asked Questions
Is anyone having problems with iOS 15?
A: I am having no problems with iOS 15.
What are the problems with the new iPhone update?
A: Common problems with the update include poor battery life, significant increases in data storage and software incompatibility.
Why is my phone not working after iOS 15?
A: The latest iOS update causes a lot of phones to stop working properly. If your phone is one that has stopped working after the update, you should contact Apple for further assistance.
Related Tags
ios 15 issues iphone 11
ios 15 problems forbes
ios 15 beta problems
ios 15 problems iphone 12
ios 15.0.2 problems